Diamond Sudoku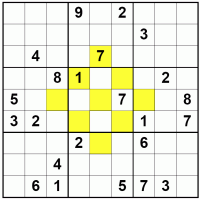 Everyone knows that diamonds are a girls best friend!
And here is a diamond sudoku especially for you.
If it's your diamond anniversary then maybe you could celebrate by giving your sweetheart of sixty years this diamond sudoku puzzle - along with the real thing too, of course!
This fun variant sudoku puzzle plays just like a normal sudoku, but there is also a diamond region marked in yellow in the centre of the puzzle.
To solve it you need to know that the yellow squares also contain one to nine each (there are nine yellow squares) so if you place a '1' in a yellow square for instance then you know that none of the other yellow squares can contain yellow too.
We hope you enjoy this fun diamond celebration sudoku variant puzzle!
Play Diamond Sudoku