Valentines Sudoku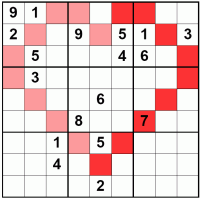 Are you a hopeless romantic? Then what better way to show it than by giving your loved ones a special heart sudoku on any special occasion - it doesn't have to be just for Valentines Day!
Our Valentines Sudoku contains two extra regions, one in red and one in pink, that join together in the shape of a heart.
Best of all, those regions aren't just there for decoration - they are actually part of the puzzle! Each of those two regions also contain the numbers from one through nine exactly once. You will need to use this fact to solve the puzzle, so for instance if you place a '1' in a cell in the red region of the heart, you can eliminate it from all the other red cells. Similarly, place a '2' in a cell in the pink region, and eliminate it from all the other pink cells, and so on.
We hope you enjoy this heart sudoku - either play it yourself for fun or print it out in colour and give it a loved one - just don't give them the solution straight off, you don't want to make it too easy! Simply click the link below and the puzzle will open up ready to print, play and enjoy!
Valentines Heart Sudoku Puzzle