Large Print Word Search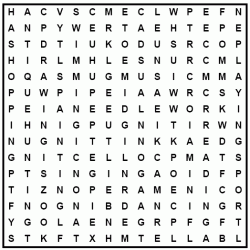 Wordsearch is one of the most fun puzzles there is and also one of the oldest.
Enjoyed by young and old for generations, this puzzle is simple and satisfying, particularly when you find that last word which you've been trying to find for ages in the grid!
Our large print wordsearch puzzles have words hidden forward, backward, up and down and in the diagonal directions, also potentially going backward diagonally.
The puzzle is a PDF and will open in a new window when you click to load it - you can resize it as big and large as you like on screen and it will still be perfectly readable. To play the large print wordsearch puzzle simply print it off - to make even larger you can choose to print to page within your printer settings.
If you get stuck or want to check your solution, the answer is on the second page - we've ringed each of the words so that you can easily see what goes where.
View the
Large print wordsearch
- good luck finding the words!
Once you've done that wordsearch, you might also like to play some of our
wordsearch to print
puzzles.